The Evolution of Collaboration in the Enterprise
Collaboration wasn't always a buzzword. On the contrary – up until fairly recently, organisations actually discouraged collaboration.
For years, offices featured cubicles, in which people would hunch over their desks for seven or eight hours a day. They wouldn't interact with their coworkers much because there wasn't a need for it. In fact, there was a sense of competition.
'Corporate collaboration hasn't been encouraged until fairly recently.'
Technological developments have changed the way the enterprise looks at collaboration. Instead of being a foreign concept, managers now actively encourage collaboration. They've realised it's the only way to get things done – employees can contribute more value when they share ideas and come up with innovative solutions to business problems.
Collaboration has also become a necessity in a mobile world; many of us don't work in an office all the time, yet we still need to be connected to our colleagues and the software applications we use every day.
What Are Collaboration Tools?
The shift towards enterprise collaboration has been made possible by collaboration tools. Collaboration tools are digital tools that allow you to easily share information with colleagues, regardless of your location.
They enable you to:
Co-author
Share
Collaborate in real-time
See how well employees are collaborating
The top collaboration tools include these features:
Chat
Videoconferencing
Voice calls
Tools that let you access, share, and edit information
What Is a Collaborative Culture?
The discussion of the evolution of enterprise collaboration brings us to what the term 'collaborative culture' means.
Open, transparent, effective, and timely communication lies at the heart of a collaborative culture. In turn, that communication relies on trust – employees must trust one another and their supervisors with information. Trust, and by extension, communication, has to reign across the organisation – it's no use if one department communicates internally very well yet won't share information with other business units.
Collaboration Tools Do Not Mean You Have a Collaborative Culture in the Enterprise
Just because you've put collaboration tools in place doesn't mean you have a collaborative culture. If employees and leaders don't have the right mindset, you can invest in technology without seeing any real difference because collaboration won't take place.
Here's the most important thing to know about collaboration tools: they support a strong collaborative culture that's already in place. They enable collaboration, but they can't make it happen out of thin air.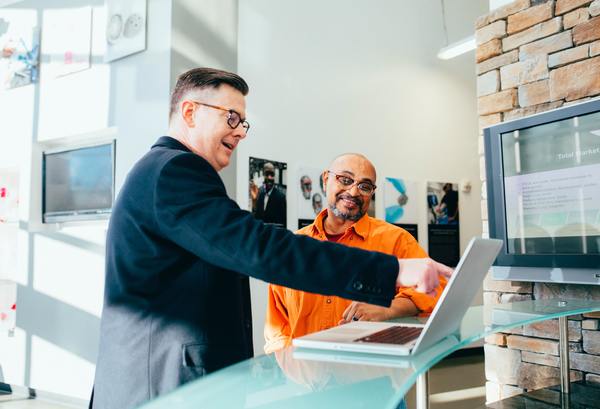 What Can You Do to Build a Collaborative Culture in Your Workplace?
Fostering a collaborative culture within the enterprise is critical, not only for information sharing to take place but for the company's success. If employees can't work together, they can't complete critical projects or come up with ideas that deliver value to the organisation.
What needs to happen to build a collaborative culture?
Employees need to trust each other, and their managers
Employees need to feel comfortable sharing information across the organisation, not just within their department
The right collaboration tools need to be in place to support collaboration.
Microsoft Office 365: Enabling Workplace Collaboration
Microsoft Office 365's collaboration tools support an organisational culture of information sharing and idea exchange. Here's how:
Business applications that allow secure information sharing
Apps that are mobile-friendly, so employees can work anywhere
There are built-in communication tools, so it's easy to start a meeting regardless of which application you're using.
Business Applications Allow for Secure Information Sharing
Collaboration is only effective if the people working together trust the information they've received. If the information doesn't come from a reputable source, no one will be able to agree on what next steps to take.
Microsoft Office 365 allows users to share information securely. Moreover, it connects to record sources so that everyone can trust the information they're using to make better decisions.
Microsoft Office 365 Is Mobile-Friendly
Collaboration tools have enabled employees to work from wherever they like – they no longer feel like they're tied to a desk. Employees benefit from the flexibility, especially if they work in the field. However, employees don't always have laptops when they're working outside of the office; sometimes, they have to use mobile devices.
Microsoft Office 365's collaboration tools are mobile-friendly – users can connect with their colleagues from their smartphone or tablet, wherever they are. This capability means that employees:
Can access systems of record, even if they're not at the office
Work with their peers seamlessly
Feel secure because what they're doing is protected by Microsoft's industry-leading cyber protection.
Built-In Application Tools Save Time and Effort
Imagine this scene: you're working from home, but your co-worker Tim is in the office. Your other teammate Vivian is onsite with a client for the next few hours. You've been chatting with one another through Teams, yet you think it might be a good idea if you hold a videoconference to hash some things out.
With Microsoft Office 365, it's easy to start a chat or a videoconference from within the solution. Employees don't need to navigate to another program to communicate with one another; with a few clicks, they can open a chat or hold a videoconference. Being able to schedule meetings within a few clicks saves time and effort. Moreover, Microsoft Office features tools with which most employees are already familiar, so it's a low learning curve to get up and running.
Enlighten Designs Supports Your Collaborative Culture with Microsoft Office 365 Implementations
For over two decades, Enlighten Designs has been delivering amazing digital experiences to its clients, including helping them collaborate effectively. We're a proud Microsoft partner, having won the Partner of the Year Award in 2020. Our Modern Workplace team's Empower with Teams package can help you configure and implement collaboration tools for your business.