How Do You Use AI in Your Life?
You'll find AI at work in your everyday life in the following places:
Your email inbox
Your bank account
Your social media profile
Online shopping
Your smartphone
Your Email Inbox
If you use Gmail, you're reaping the benefits of AI. We'll look at two ways Gmail utilises AI:
Spam filters
Priority emails
Spammers send thousands of emails every day. Gmail's spam filter ensures that they don't reach your inbox, thanks to machine learning. 'Machine learning' means that a computer learns on its own without being told to do so; the spam filters are always learning how to avoid spam based on message content and metadata (information about where the message was sent from and who sent it).
Several years ago, Gmail launched a 'smart' inbox that categorises emails, so users don't waste time with low-priority messages. In this case, there's some user intervention – Gmail learns what's important when users flag a message as high-priority. As a result of AI-enabled inboxes, Gmail users are more efficient.
Your Bank Account
If you've ever deposited a cheque by taking a picture of it with your smartphone, that's AI at work. The technology which reads cheques relies upon AI and machine learning.
Additionally, AI plays a significant role in fraud detection. Let's say someone steals your credit card and goes on a shopping spree. AI looks at your purchase history and shopping patterns, so if the thief buys items you wouldn't normally buy (or perhaps have already bought recently), it will tip off your credit card company to a case of fraud.
Your Social Media Profile
Do you use Facebook, Snapchat, Instagram, or Pinterest? If yes, then you're using AI every time you log in.
Facebook utilises AI to personalise ads and stories that you'll find relevant. Instagram has harnessed the power of AI to identify the sentiments behind emojis so it can suggest the right ones. Snapchat's facial filters run on AI – they automatically adjust when a user's face moves. Thanks to AI, Pinterest can identify objects in images to recommend similar pins.
Online Shopping
Let's say you're in the market for new women's boots. You go to your favourite online store and type that term into the search bar. AI refines that search so that you only see the most relevant results.
Those boots would go well with a new bag. Savvy e-commerce sites use recommendation engines that suggest related items to what you're looking at or what you've purchased. Those recommendation engines run on AI.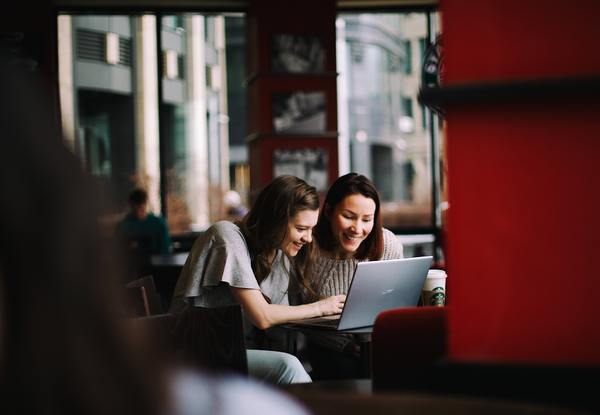 Your Smartphone
How many times a day do you talk to your smartphone and ask it to search for things? Every time you do that, you're using AI.
Voice-to-text ('Siri, find the nearest Indian restaurant') and virtual assistants rely upon AI to find answers to users' questions.
How Do Businesses Use AI for Better Decision Making?
If it doesn't already, AI will play a greater role in your work life in the future. Companies have begun to realise how AI can help them make better decisions through:
Business intelligence
Analytics at scale
Business Intelligence
Business intelligence (BI, for short) transforms data into actionable insights that decision-makers can use to make the right choices for their organisations.
One way decision-makers can utilise BI is through data visualisations - information displayed through images such as graphs and charts - and AI serves as the underpinning for today's BI software.
For example, Microsoft Power BI uses AI to prepare data for analysis by structuring it, completing it, and formatting it properly. Data preparation is a time-consuming task when humans do it, and because to err is human, they tend to make mistakes. On the other hand, AI doesn't make mistakes, ensuring that data preparation is accurate and leads to the right outcomes.
Analytics at Scale
Another way companies use AI is for analytics at scale. There's more data than ever in the enterprise. Even if you had enormous manpower, you still couldn't manually analyse all that information.
That's where AI comes in. Computers can analyse massive amounts of data very quickly. Moreover, they can spot patterns humans might not be able to catch.
'AI can analyse massive amounts of data very quickly and can catch patterns humans don't see.'
One of the most significant benefits of AI is its ability to analyse unstructured data (meaning information that isn't organised according to a pre-defined schema). Examples of unstructured data include:
Videos
Images
Social media content
Audio
AI in Action in the Enterprise
We'll illustrate with an example of how a company might use these two functions of AI to make better decisions.
Kim works for the marketing department of a national office furniture chain. The company uses AI technology for BI and for analytics at scale. Kim runs a query to determine how customers responded to the company's social media campaign, and she discovers that the response has been negative.
'With AI for BI and analytics at scale, companies can make better decisions'
She wants to show her colleagues the results of the social media campaign, so Kim creates a Power BI data visualisation. With the help of AI, Power BI suggests which data visualisation will have the most impact on her colleagues, so they can easily and quickly grasp the situation. As a result of the presentation, the marketing department shifts its strategy to appeal to more customers.
Enlighten Designs: Helping You Put AI in Place at Your Organisation
For over two decades, Enlighten Designs has delivered amazing digital experiences to its customers. We're proud partners of Microsoft, experts in AI. To learn more about AI, check out AI in a Day.