What Is a Digital Transformation?
A digital transformation refers to the use of technology to dramatically reshape processes and business outcomes. Since the term became part of the enterprise lexicon, it's generally been misunderstood. A digital transformation isn't just about implementing new technology; it's about implementing new technology so that you'll change the way you do everything at your firm.
The Workplace, Pre-Digital Transformation
Prior to digital transformation, when you walked through the door of a traditional workplace, you'd see some variation on a theme: cubicles, separate offices, closed doors, people hunched over their desks, and basically little or no collaboration taking place. Each department had its own space, maybe even a floor at larger organisations. It was rare to see people work across teams. Information silos reigned.
The Modern Workplace, Post-Digital Transformation
The modern workplace is far different. For a start, you might not walk into an office – the entire operation might be virtual, with distributed teams of remote workers. Second, 'collaboration' is no longer a dirty word. In fact, the modern workplace would wither completely without people from different teams or units joining forces.
What you will most likely see is people sharing information easily and quickly thanks to digital communication methods. You'll see companies meeting goals and experiencing greater success because they've unleashed the power of a collaborative workforce. And you'll see this again and again, across industries and borders.
What's Powering Digital Transformation and Modern Workplaces?
Without a doubt, digital transformations are powering modern workplaces. Yet, it's not about implementing technology and hoping that it changes things. The goal of a digital transformation is that technology intentionally changes processes and business outcomes.
Specifically, technology should allow employees to collaborate better, even if they're located on different continents. It should give them a way to share information digitally, to ensure accuracy and speed. This technology should also be secure so that everyone from members of the C-suite to frontline employees has peace of mind.
Microsoft Modern Workplace Solutions: Facilitating Digital Transformations
Ensuring efficiency, effectiveness, and security has always been top of mind for Microsoft. They've developed four solution areas for empowering employees, engaging customers, optimizing operations, and transforming products:
Modern workplace
Business applications
Mobile applications and infrastructure
Data and AI
Modern Workplace
The modern workplace is a study in contradictions. On one hand, there's more information out there than ever before, yet it's harder to make good decisions because you don't know what data to trust. Also, there are more apps available for employees to boost their productivity, though these apps aren't secure and lead to damaging data breaches.
To solve those problems, Microsoft has created an integrated technology platform that prioritises collaboration, productivity, insight, and trust. In the next section, we'll discuss how the business applications included in Modern Workplace facilitate that.
Business Applications
For the modern workplace to deliver on its promises, it needs a set of business applications that allow for collaboration and insight, while keeping information secure. Microsoft's Modern Workplace offers that with its business applications.
It leverages the Office 365 toolkit for co-authoring, sharing, collaborating, and communicating within Microsoft Office, Teams, Skype for Business, PBX, and conferencing. MyAnalytics and Power BI deliver insight and intelligence across the organisation for data-driven decision making. A number of built-in security features make Microsoft's Modern Workplace solution a trusted solution.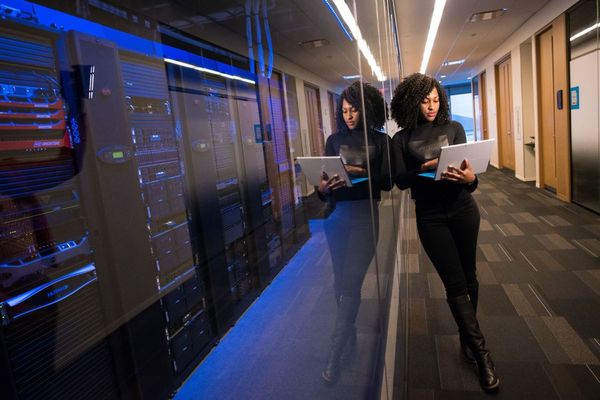 Mobile Applications and Infrastructure
One of the hallmarks of the modern workplace is that employees are highly mobile. They have at least one device and at least several applications that are supposed to help them be more productive. However, those apps might not be secure, and there could be interoperability issues with your business applications.
Microsoft Modern Workplace provides a universal toolkit for teamwork with its mobile applications and robust infrastructure. It offers Outlook for email and calendar, SharePoint for intranet and content management, Yammer to connect employees across the organisation, Office Apps for co-authoring, and Teams for better collaboration. Azure, the highly secure and trusted cloud infrastructure, supports these mobile apps.
Data and AI
There's more data in the enterprise than ever before. Yet, with all that information, how do you know whether that data is accurate, let alone what step you should take next? Microsoft Modern Office addresses this problem by incorporating MyAnalytics and Power BI.
MyAnalytics is an AI-driven productivity insight solution that helps you understand how you can improve your focus, collaboration efforts, and networking. Power BI is a business analytics solution that delivers data visualisations so that you can make better decisions. The combination of these two solutions enables you to be both more productive as an employee and to choose the best next step for your company.
Enlighten Designs: Helping You Facilitate Digital Transformations at Your Organisation
Enlighten Designs has over two decades of experience assisting organisations in choosing the right technology to make them productive, efficient, and protected from threats. We're a proud Microsoft partner, having achieved Gold status in the categories of Application Development, Data Platform, and Data Analytics. Our goal is to aid you in developing a modern workplace powered by a digital transformation. To learn more, contact us today.