Good News for Sitecore Users
If you're a Sitecore user who has or is considering integration with Microsoft Dynamics 365, there's some good news for you. The latest version of the CRM seamlessly integrates with any third-party content management system, while still providing the same capabilities and insights.
Previously, Microsoft Dynamics 365 portals had to host the subscription centre and the event portal; now, portals are optional. You can choose to host all Microsoft Dynamics 365 for Marketing forms and content on an external CMS like Sitecore without having to sacrifice the ability to collect information such as visits, submissions, and registrations.
"The latest version of Microsoft Dynamics 365 seamlessly integrates with Sitecore."
This Microsoft Dynamics upgrade makes the Microsoft Dynamics 365/Sitecore integration even stronger. The combination of Microsoft Dynamics 365 and Sitecore allows you to maximise your data, better understand your customers, and improve your marketing efforts.
You can create a feedback survey in Sitecore, then store the results in Microsoft Dynamics 365. Those responses can be associated with particular clients, so when you reach out to them, you can personalise your messages. Moreover, you can generate reports on prospects to see things like which conversion activities the prospect has completed.
"The combination of Microsoft Dynamics 365 and Sitecore allows you to maximise your data, better understand your customers, and improve your marketing efforts."
Microsoft Dynamics 365 and Sitecore help you better understand your customers by bringing disparate sources of information together for a holistic view of the customer. You can add a customer's web activity to his or her profile so you can tell how many times someone has visited your site. An individual who has visited your site a number of times might be ready for a sales call.
In addition, Microsoft Dynamics 365 and Sitecore enable you to improve your marketing efforts. The information stored in Microsoft Dynamics 365 allows you to create personalised messages in Sitecore that will speak to your clients' pain points. Personalisation is crucial in marketing; research from Hubspot shows that individualised CTAs convert a whopping 202 percent better than default versions.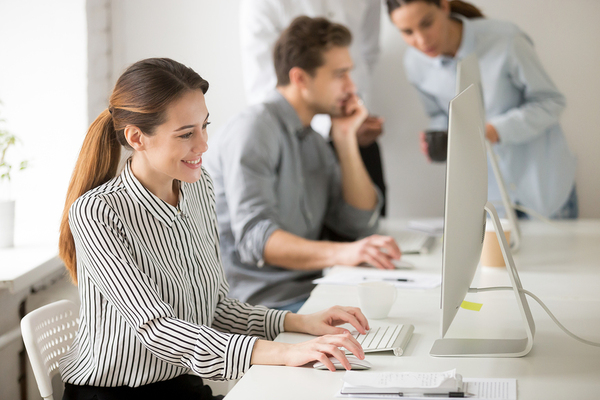 Microsoft Dynamics 365 and Power BI
April's Microsoft Dynamics upgrade also gives you more out of your CMS because of the relationship between the CRM and Power BI. Power BI is Microsoft's business intelligence application. It's a self-service solution that allows your workforce to access and utilize customer engagement information. It works in real time, so you can get insights from your data quickly.
Microsoft will be adding some exciting new updates this month to Power BI, too. For a start, Microsoft has improved Power BI's filter pane. You can edit filter panes, rename them, scale them with report pages, and you'll have better access to them than in the past.
"Microsoft will be adding some exciting new updates to Power BI."
In addition, you can now drill through across reports. Microsoft has also increased the number of connectors available; there's a PDF connector, a Web By Example connector, an Intersystems IRIS connector, and an Indexima connector.
Why Should You Upgrade Now?
Many organisations gladly put upgrades off until the last possible minute, reasoning that upgrades can lead to costly downtime, and they require manpower that could be used for other projects.
However, waiting to upgrade can have negative consequences. It becomes more expensive to upgrade the older your software is. The upgrade will necessitate more resources because you've most likely missed a number of upgrades along the way. Moreover, the upgrade will take longer.
"Waiting to upgrade software has several negative consequences."
There are positive effects of upgrading, too. For instance, regular upgrades provide you with access to more features. It's within Microsoft's best interest to improve the user experience with each upgrade, so expect to see better functionality and greater ease of use with this Microsoft Dynamics upgrade.
With more features comes greater ROI. Upgrades allow you to get more out of your software investments. The ability to do more enables you to get more in return, which is an excellent reason to upgrade.
The Enlighten Advantage
To enhance the features of Sitecore and make it more highly relevant to a Microsoft-specific audience, Enlighten custom-created unique tools on top of the Sitecore/Dynamics 365 integration.
The first of these tools is Contacto, an automated contact harvesting tool. It aims to solve the problem of customer data integrity. You can't engage with customers if you don't have accurate information; Contacto solves that issue by auto-generating contacts every time a new email address engages with the target organisation.
"Enlighten custom-created unique tools on top of the Sitecore/Dynamics 365 integration."
Enlighten's second tool, JourneyScore, tracks customer satisfaction. It automates a Net Promoter Score survey to a randomised selection of active customer contacts so that you can get a much more accurate view of customer satisfaction. An algorithm weighs customer engagement activities, providing an unbiased and accurate view of how customers feel about your organisation and adding value to the 360-degree view of the customer.
JourneyScore might seem like a simple widget, but it has saved Enlighten's customers hundreds of thousands of dollars. The tool has enabled customers to catch issues much earlier and fix potentially costly problems.
Why Choose Enlighten for Your Microsoft Dynamics Upgrade?
Enlighten has over two decades of helping our clients satisfy their own customers with simple, seamless, personalised digital experiences. Our customised tools for Microsoft Dynamics 365 and Sitecore make both of these solutions even more valuable, which has helped us achieve a Gold partnership with Sitecore and be named as a finalist for two categories of partnership with Microsoft. To learn more about how Enlighten can help you, contact us today.